2022 HKMKT Night Market
When: Oct. 28th 29th 30th
Hong Kong Market's 36th Anniversary!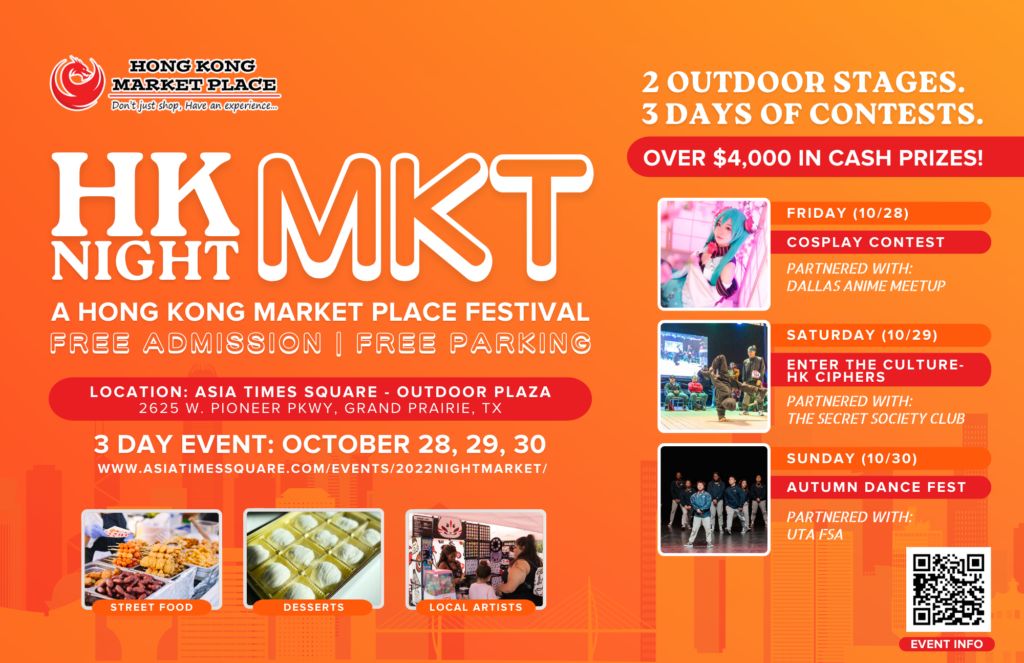 We cordially invite you to the 36th Anniversary of Hong Kong Market Place! The HKMKT NightMKT is here for a FREE 3-day outdoor event at the Asia Times Square Outdoor Plaza in Grand Prairie, TX with not one, but TWO outdoor stages! Food vendors will be serving cuisine from all across Asia, so don't miss your chance to try all the delicious foods at the HKMKT NightMKT! Follow the event on OUR FACEBOOK PAGE to stay up to date with the event!
WHY THE HKMKT NightMKT-
This special event is hosted annually as a token of our appreciation to our community, tenants, vendors, and guests for their continuous support over the past 3 decades. The DFW Metroplex has been our home and we would not be able to grow and flourish without YOU! So let's come together and celebrate as one community over an abundance of mouth-watering foods and live competitions.
Follow this page to see some of the vendors that will be at the event! – Food and Merchandise Vendors

CONTEST & PRIZES-
Hong Kong Market Place is doing our very best to support our community and grow the culture. To achieve this, we have partnered up with three professional organizations to bring you 3 days of competitive competitions! Watch these individuals and teams duke it out to win over $4,000 in Cash Prizes and the winning bragging rights!
HKMKT SPECIAL-
From 10/1- 10/28: Spend $36+ at Hong Kong Market Place (Dallas or Grand Prairie) and enter our giveaway for a chance to win gift cards up to $500! (**QR Code to submit your receipt will be located at all cash registers)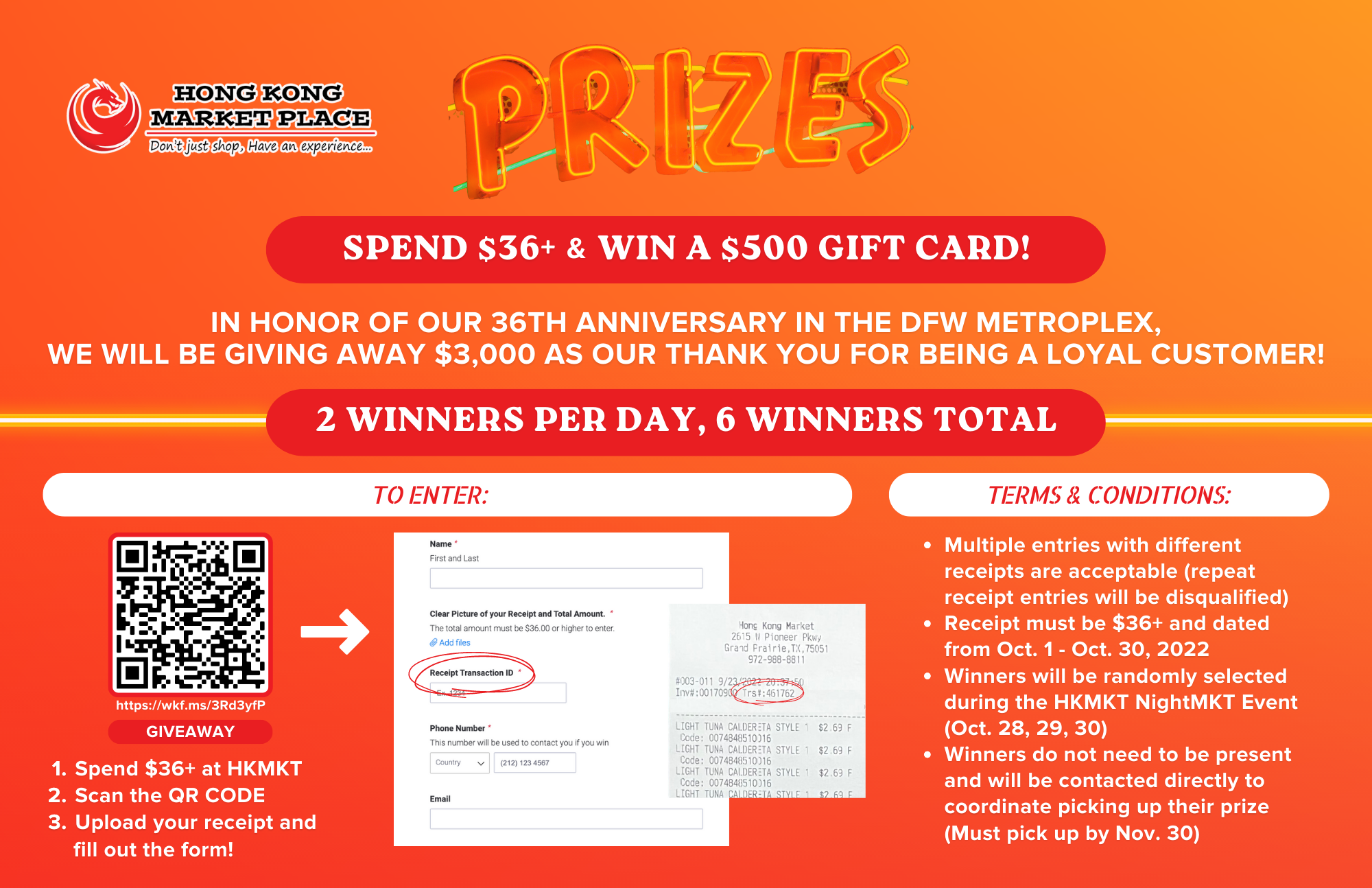 Event Competitions
Friday (10/28): Cosplay Competition
Partnered with Dallas Anime Meetup
Sign up HERE for the cosplay competition
contact organizer@dallasanimemeetup.com for details
Saturday (10/29): Enter The Culture- HK Ciphers
Partnered with The Secret Society Club
Keep scrolling below or follow their event link on FB for more details HERE
Sunday (10/30): Autumn Dance Fest
Partnered with UTA FSA
Sign up HERE for the Sunday Dance Competition
Confirmed DJ's for the Weekend
Phonixx
TANG
MattyP
Vince "Fwego" Escano
TayLOL
Fam
BPHAM
More to come!

**Check back for a full list of Vendors, DJ's, and Event Schedule!
ATS is excited to work with the Secret Society Club to host:
ENTER THE CULTURE: HK CIPHERS
We will be holding a dance competition on the Saturday 29th of our event weekend. Please follow This Link to learn more and to participate!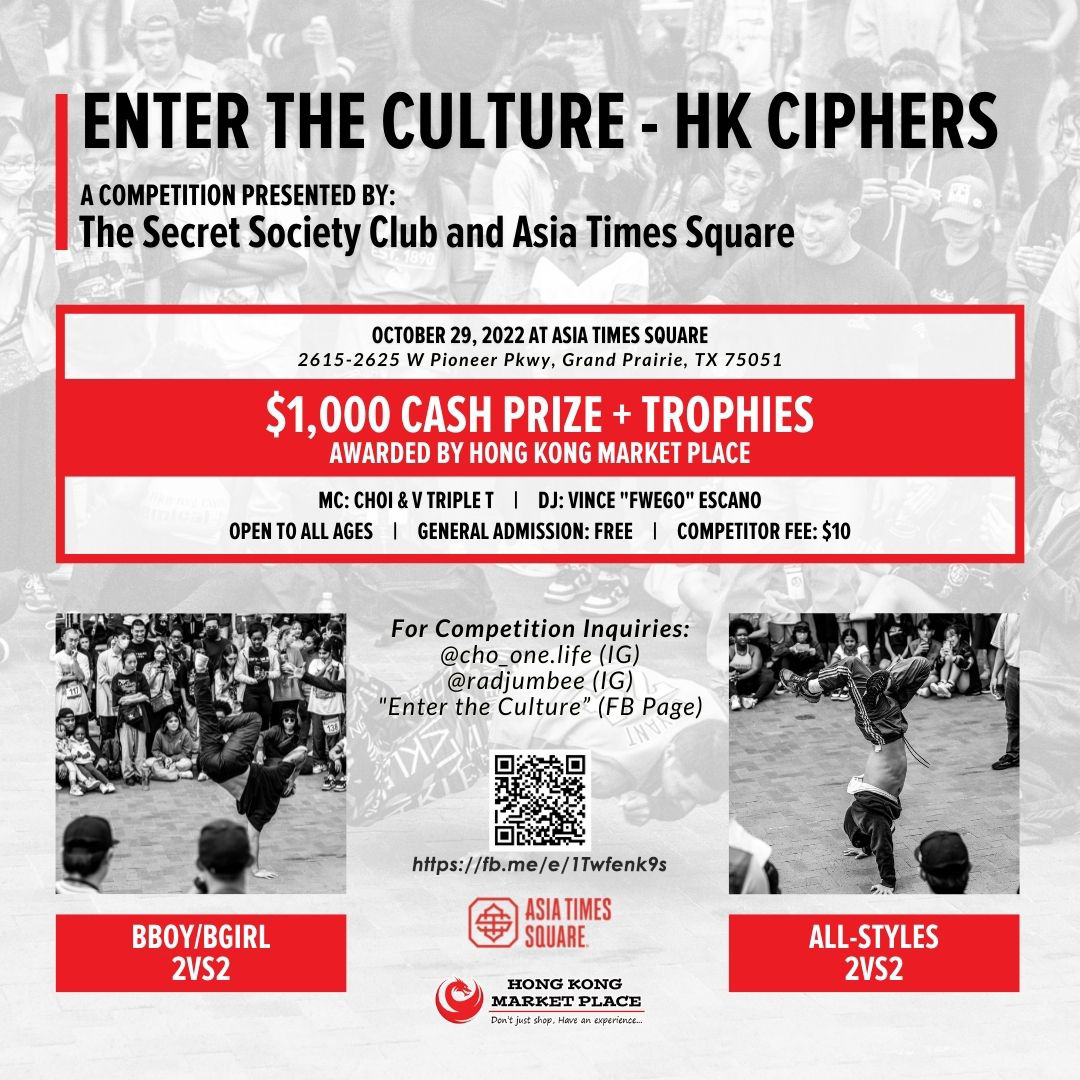 More details coming soon make sure to subscribe to receive the latest updates first!

Vendors
If you are interested in becoming a vendor and want more information please click here and fill out our vendor form.
Performers
We have closed performer applications for this event, but make sure to check back and subscribe to perform at one of our other events!
Volunteers:
If you would like to help out during the event please fill out the form below and we will get back with you!
ATS Events – Volunteer Application