Asian Heritage Festival
When: May 12th-14th, 2023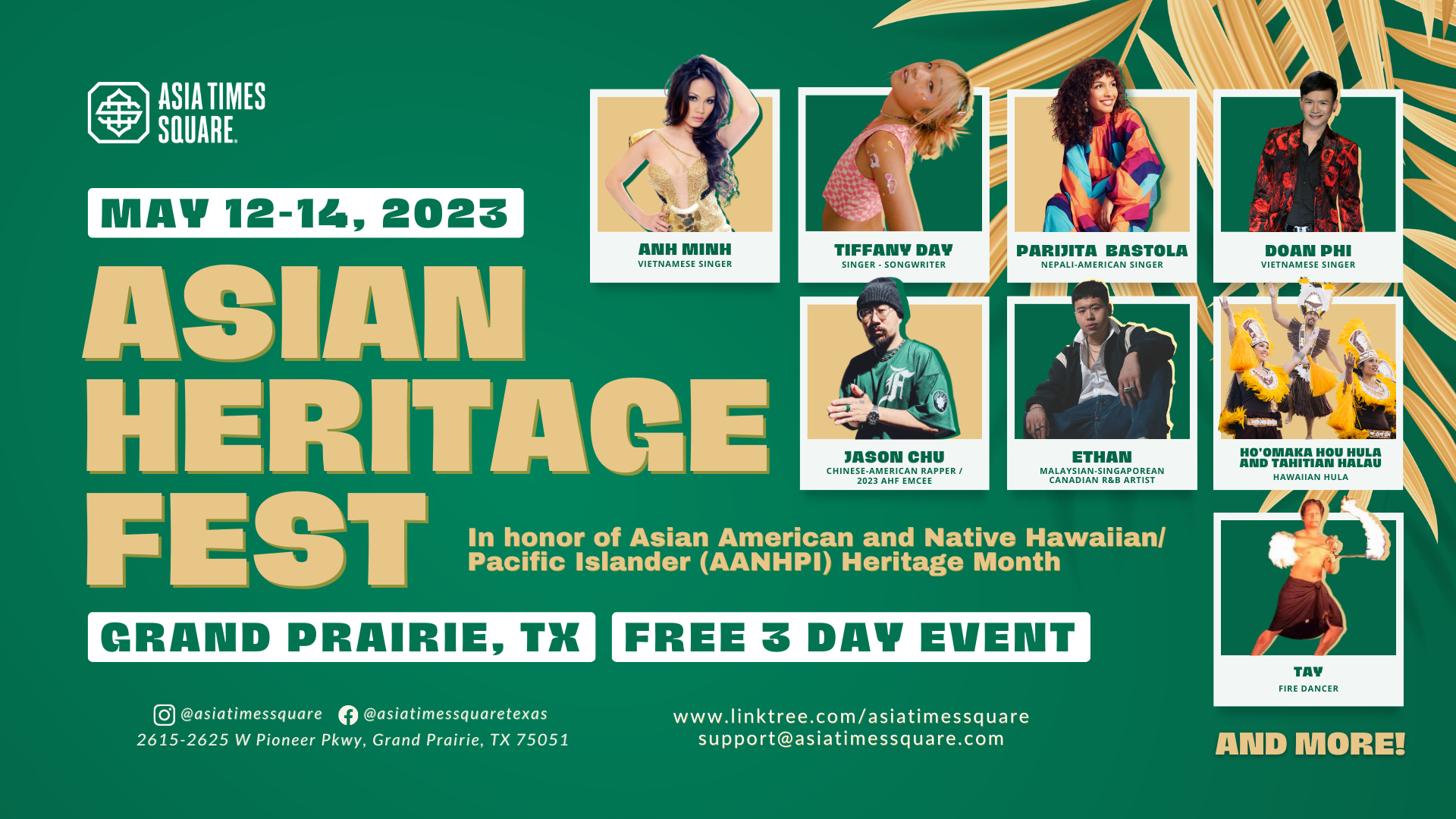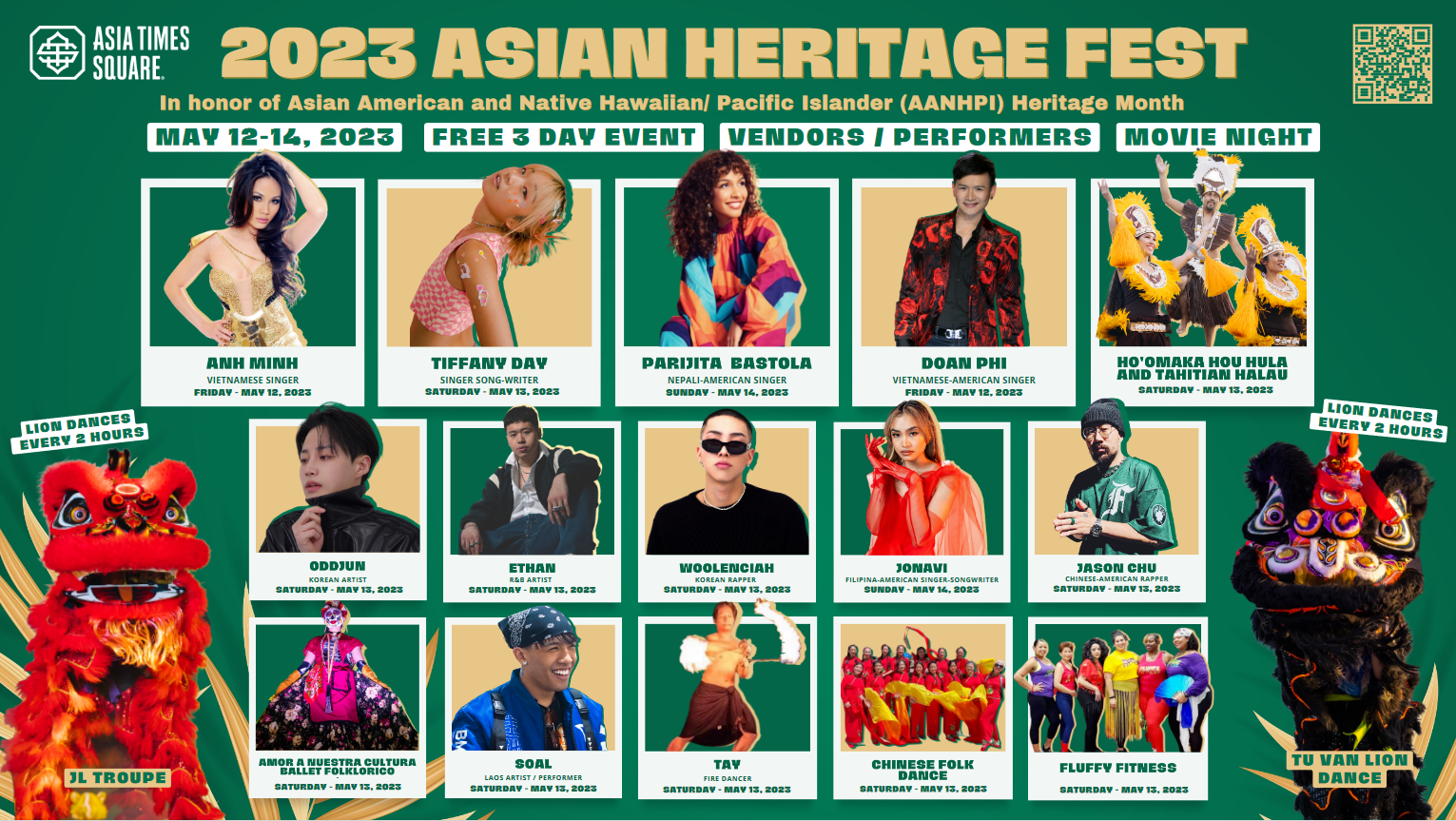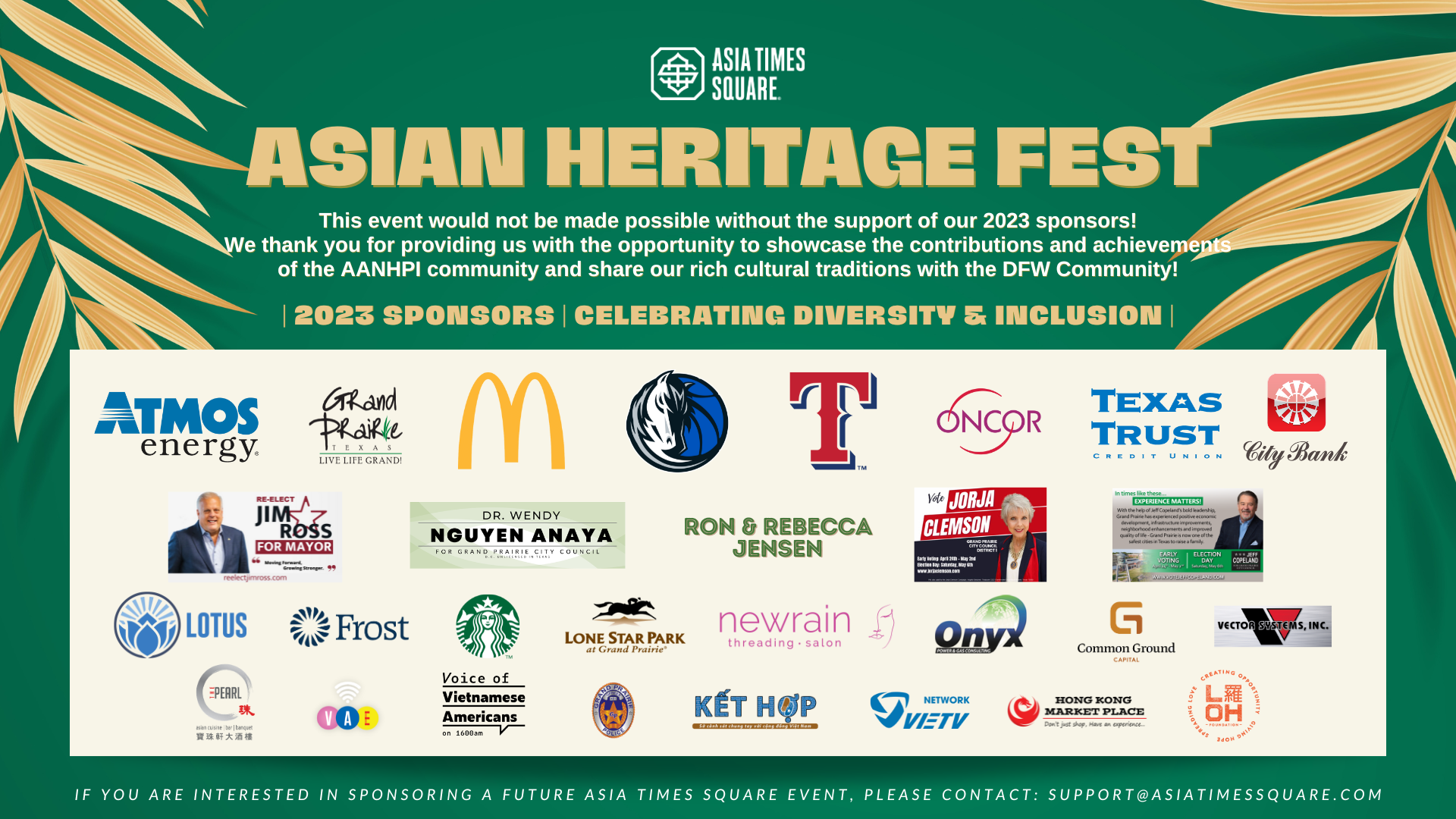 𝗦𝗔𝗩𝗘 𝗧𝗛𝗘 𝗗𝗔𝗧𝗘! The annual Asian Heritage Fest at Asia Times Square will take place on May 12th-14th, 2023 in honor of Asian American, Native Hawaiian, and Pacific Islander (AANHPI) Heritage Month.
test
We invite you to celebrate and support the rich and diverse heritage of Asian Americans with the DFW Community. Join us for three (3) days of fun, food, and culture as we honor the contributions and impact of Asian Americans in our society.
________________________
🥢 𝗧𝗔𝗦𝗧𝗘 𝗧𝗛𝗘 𝗖𝗨𝗟𝗧𝗨𝗥𝗘 🥢
Experience the vibrant atmosphere of Asia Times Square as you explore the wide variety of food vendors, selling delicious and authentic Asian cuisine. You will be able to sample mouth-watering dishes from different countries and regions!
🎊 𝗣𝗘𝗥𝗙𝗢𝗥𝗠𝗔𝗡𝗖𝗘 / 𝗔𝗥𝗧 🎊
The fest will also feature a wide range of performances showcasing the diversity of Asian cultures. There will be music and dance performances, traditional and modern, by local artists and community groups, providing a colorful and lively display of Asian American culture.
👤 𝗘𝗗𝗨𝗖𝗔𝗧𝗜𝗢𝗡 / 𝗛𝗜𝗦𝗧𝗢𝗥𝗬 👤
Most importantly, in addition to the food and entertainment, visitors will have the opportunity to learn about the history and contributions of national and local Asian Americans to American society. Various cultural displays and exhibits will highlight the achievements and struggles of Asian Americans throughout history, emphasizing the importance of diversity and inclusivity in our society!
________________________
𝟮𝟬𝟮𝟯 𝗔𝗦𝗜𝗔𝗡 𝗛𝗘𝗥𝗜𝗧𝗔𝗚𝗘 𝗙𝗘𝗦𝗧:
🗓 May 12, 13, 14 (Fri, Sat, Sun)
📍 Asia Times Square – Grand Prairie, TX
🎟 Free Entry, Free Parking
💵 Cash is recommended (ATM Machine inside HK Market Place)
📋 Check back for the Event Schedule
________________________
Sponsors:
Our wonderful events are possible thanks to our sponsors! If you are interested in sponsoring this event CLICK HERE
If you are interested in sponsoring ATS through our annual event package CLICK HERE
Vendors:
All vendor slots for this event have been filled! Follow our socials for the next event!
Volunteers:
If you would like to volunteer please follow this form: Volunteer Sign-up
ALL REPLIES will come support@asiatimessquare.com OR an @aquamgmt.com e-mail, please notify us at support@asiatimessquare.com if anyone else tries to contact you on our behalf