Lion Dance Competition
When: June 24th-25th, 2023
VENUE CHANGE FOR SUNDAY JUNE 25. Sunday High Pole Competition will now be at The Epic. 2960 Epic Place, Grand Prairie, TX 75052. (3 MINUTE DRIVE FROM ASIA TIMES SQUARE)
Saturday: Asia Times Square
8:00 am: Check in / Doors Open
9:00 am- 7:00 pm: Competition
Sunday: The Epic (2960 Epic Place, Grand Prairie, TX 75052)
9:00 am: Check in / Doors Open
10:00 am – 4:00 pm: Competition and Award Ceramony
The USA Dragon and Lion Dance Sports Association would like to welcome everyone to the 2023 Lion Dance National Championships at Asia Times Square in Grand Prairie, Texas. The competition soars to new heights as we watch the best teams in the country show off their moves in our traditional competition on Day 1 and our new high pole (Jongs) competition on Day 2!
Follow the event page for more information! All Day Event, more detailed times will be posted at a later date.
Click for the Facebook Event Page: Event Details Link
With the competition bigger than ever, we expect huge crowds and tickets to sell out like last year. Don't miss out on the biggest lion dance competition this side of the Pacific. We can't wait to see you all!
Tickets are now live CLICK HERE to purchase!
Traditional Lion Dance Category
Champion: 1 Trophy, 10 medals, $1500
1st Runner- Up: 1 Trophy, 10 medals, $1000
2nd Runner- Up: 1 Trophy, 10 medals, $500
High Pole Lion Dance Category
Champion: 1 Trophy, 10 medals, $2000
1st Runner- Up: 1 Trophy, 10 medals, $1500
2nd Runner- Up: 1 Trophy, 10 medals, $1000
_____________
Follow us for the latest updates and direct all questions to our socials:
Facebook: @LionDanceUSA // @AsiaTimesSquaretexas
Instragram: @USADragonLionSports // @AsiaTimesSquare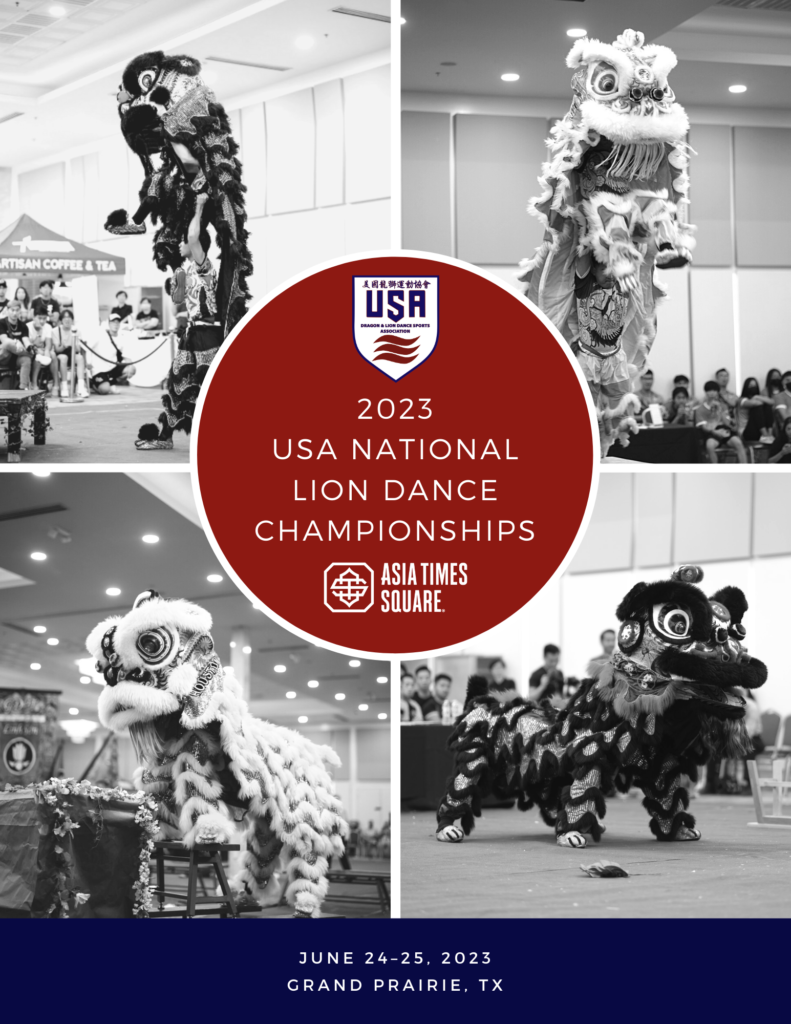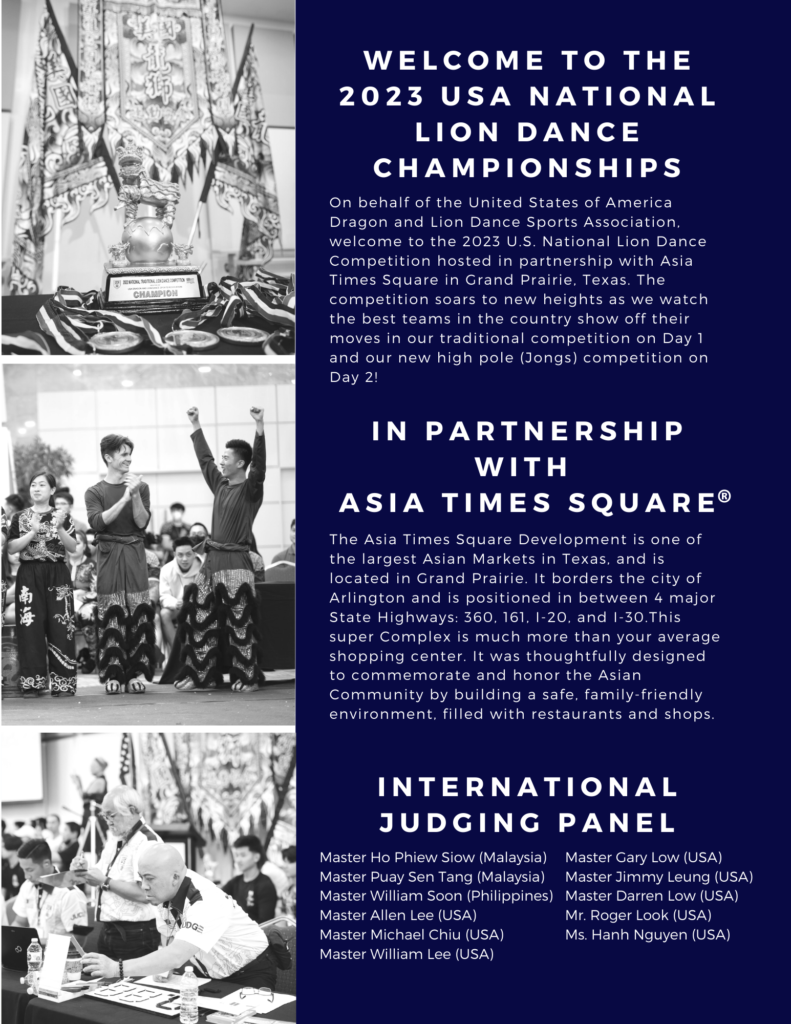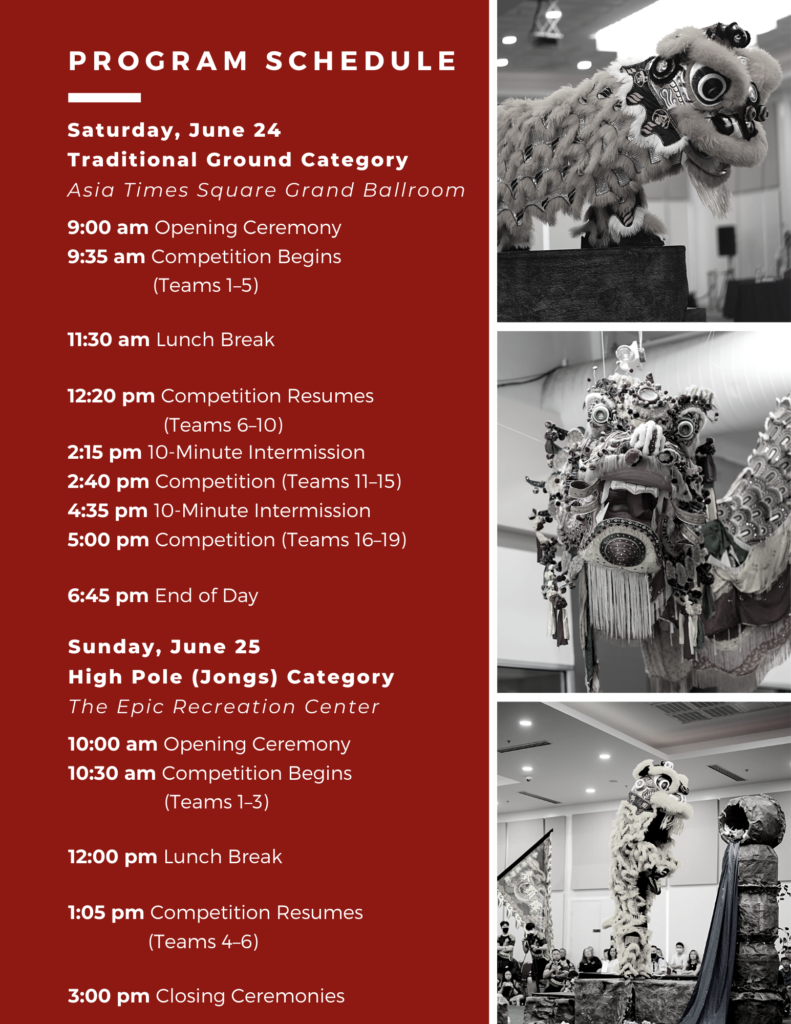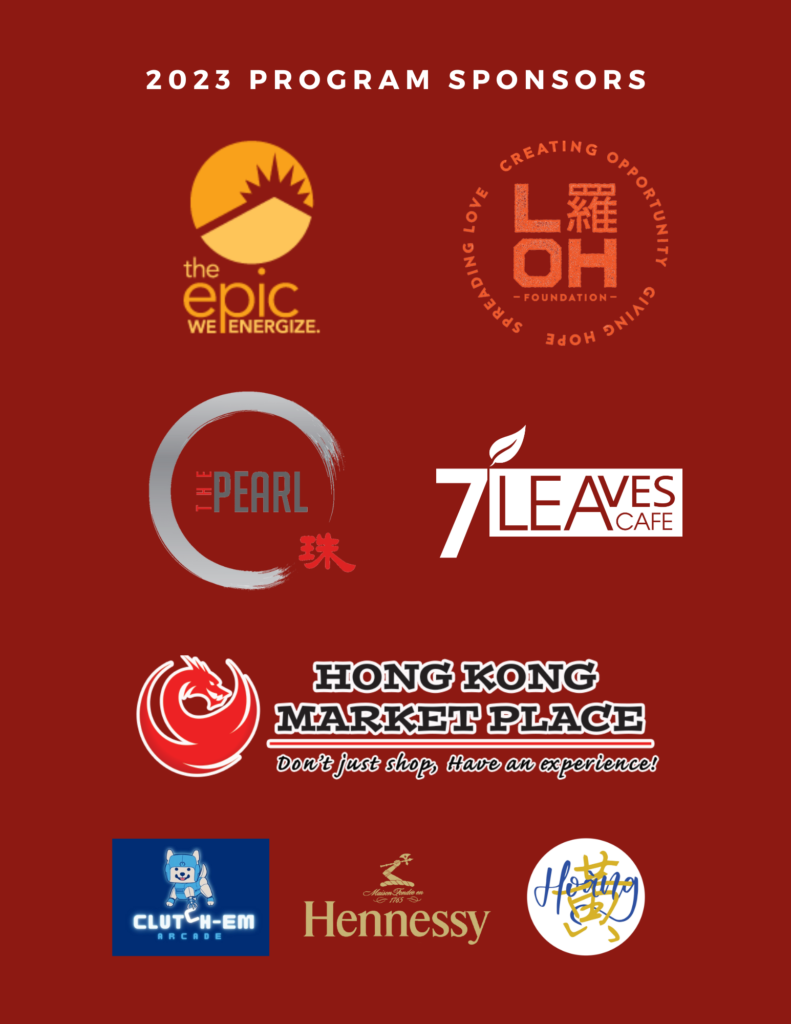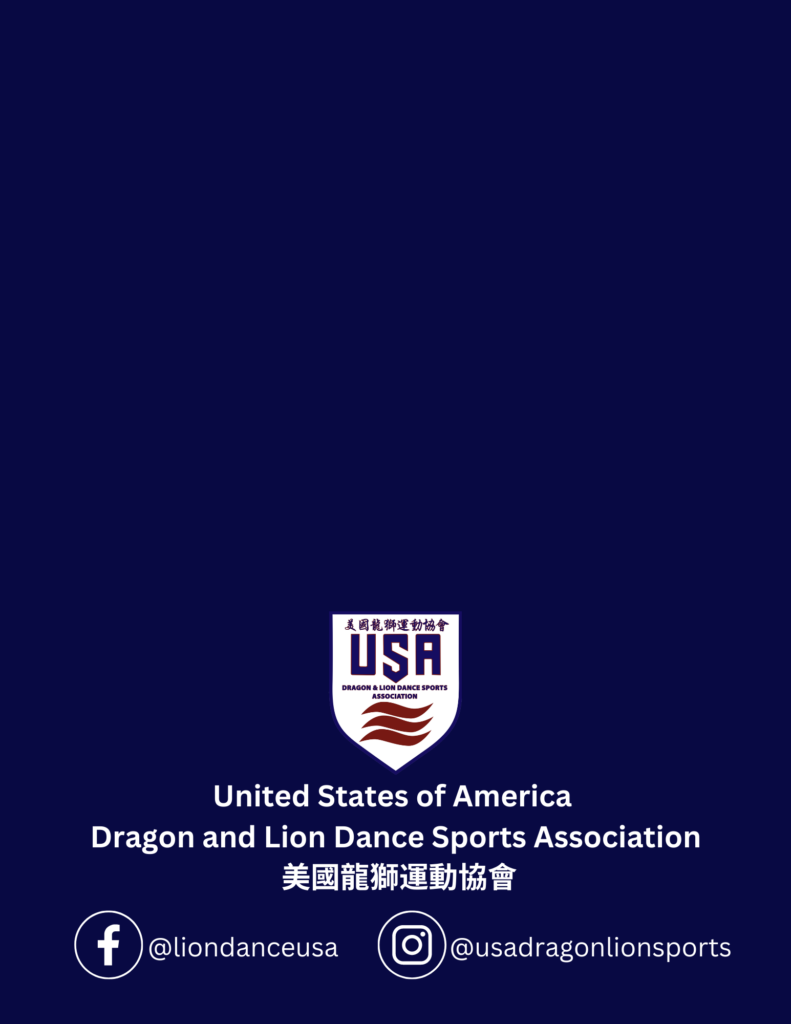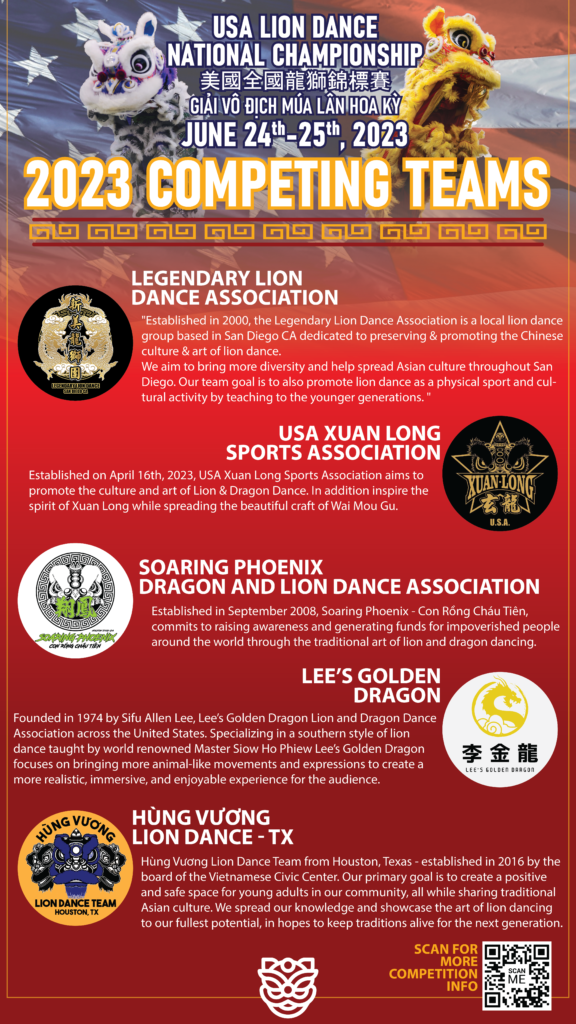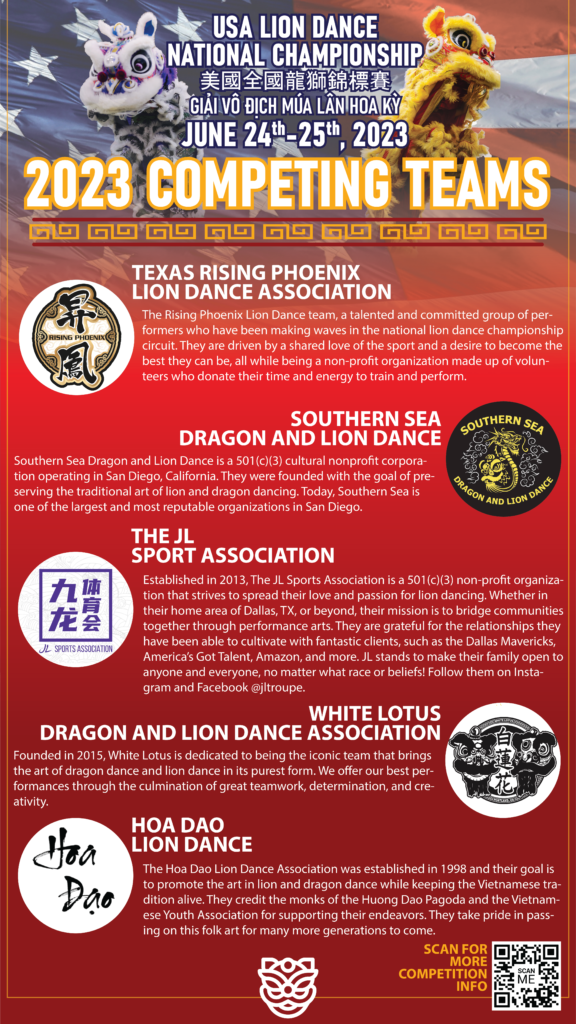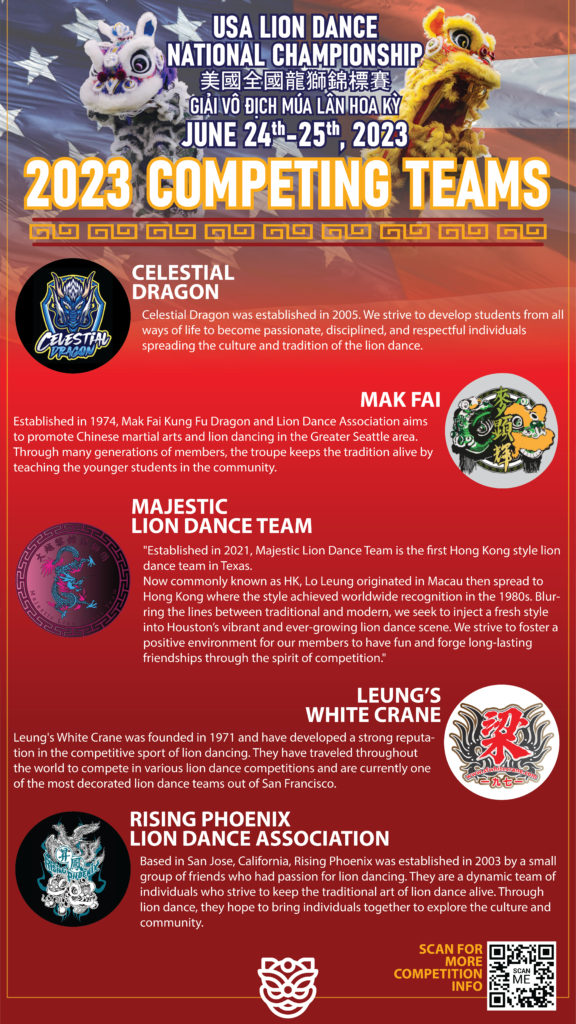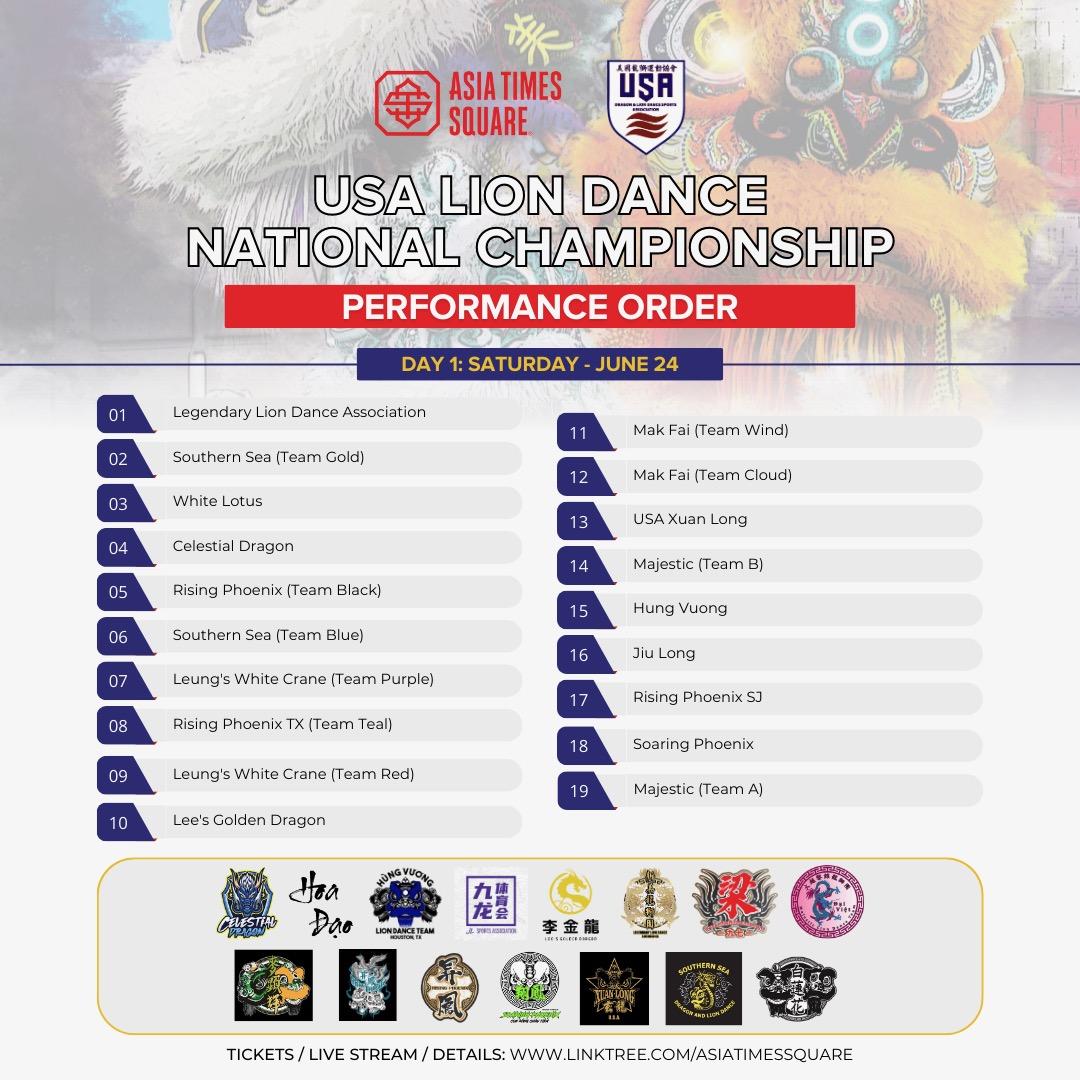 Scores
Day 1 – Traditional Ground Competition
-In order of appearance-
• = Top three -subject to change

1. Legendary Lion Dance Association7.92
2. Southern Sea (Team Gold)8.72
3. White Lotus8.83
4. Celestial Dragon8.92
5. Rising Phoenix (Team Black)9.02
6. Southern Sea (Team Blue)8.60
7. Leung's White Crane (Team Purple)9.10 •
8. Rising Phoenix TX (Team Teal)8.92
9. Leung's White Crane (Team Red) (Team Teal)9.07 •
10. Lee's Golden Dragon (Team Teal)9.07 •
11. Mak Fai (Team Wind)8.95
12. Mak Fai (Team Cloud)8.82
13. USA Xuan Long8.90
14. Majestic Lion Dance (Team B)8.80
15. Hung Vuong 8.70
16. Jiu Long 8.40
17. Rising Phoenix San Jose8.83
18. Soaring Phoenix 9.08 •
19. Majestic Lion Dance (Team A) 7.95
Day 2 – HighPole
-In order of appearance-
•= top three
1. White Lotus 7.48
2. Leung's White Crane (Team White) 7.85 •
3. Soaring Phoenix – Houston 6.93
4. Hoa Dao 8.85 •
4. Leung's White Crane (Team Black) 9.08 •