Grand Prairie's Asia Times Square Just Keeps Growing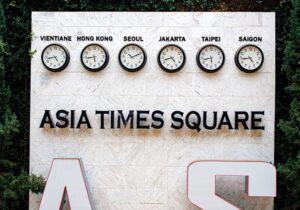 A decade ago, the abandoned Walmart and Sam's Club buildings on Pioneer Parkway, near the border of Grand Prairie and Arlington, were in such bad shape that razing them may have seemed like a better idea than rehabbing them.
But Matthew Loh and his family saw an opportunity to turn the dilapidated structures into a hub for the surrounding Asian community. The Lohs purchased the buildings, then, shop by shop, vendor by vendor, built them into Asia Times Square, a community of restaurants, health and beauty shops, retail stores, even law offices, all under one roof.
"We want it to be a one-stop shop, so to speak," Loh says. "No matter what you have to do — eat, buy groceries, pay bills, buy a TV — you can do it here. Especially now, with people not wanting to go to so many places, it makes sense to offer an all-in-one shopping experience."
Food is the primary component of Asia Times Square's appeal. Since the complex opened, it has not only become a magnet for those in neighboring communities but also foodies from across North Texas who crave Asian cuisines that are tough or impossible to find elsewhere in the area.
A pilgrimage to Asia Times Square, for example, isn't complete without a visit to The Pearl, whose specialty item is dim sum — small plates of Chinese cuisine, from dumplings to chicken feet, wheeled around on carts.
Earlier this year, as part of a new add-on development inside the mall, nearly a half-dozen new restaurant concepts joined the shopping center's already long list of food vendors.
Among the newbies is Omakase To-Go, a vegan and sushi spot manned by chef Thi Tran, a former sushi chef at Uchi in Dallas. Utilizing fresh veggies and fish sourced from Tsukiji Market, an internationally acclaimed seafood market in Tokyo, he offers imaginative sushi rolls, nigiri, and rotating small plates.
Tran says he chose to open a to-go spot after finding success selling platters of sushi last year out of his home in Arlington. "It took off on social media," he says. "It became hard for me to keep up with the demand. But it also gave me the idea for Omakase."
Impressively, Tran's menu includes more than a dozen veggie options. Among the choices are the Vegan Caterpillar, a sushi roll made with grilled tofu skin, cucumber, jalapeño, shiso leaf and avocado, and a vegan sushi burrito filled with edamame, shallots, grilled corn, Sichuan pickled carrots, red bell peppers, and asparagus, all wrapped in pink soy paper.
New tenants also include Apsara Thai and Cambodian, Sakari Ramen, and Meccha Matcha, all of which are owned by restaurateur Joseph Be, who grew up in the Arlington area.
Apsara specializes in Thai and Cambodian food, the latter of which Be holds especially dear. "My family is from Cambodia, and many of the recipes come from my family," he says. "My mom especially."
Be's specialty Cambodian dishes include bai mon, sliced chicken infused with ginger and served with garlic rice and pickled papaya; twa ko, a pork sausage typically made with lemongrass; and lort cha, stir-fried rice pin noodles. Apsara's menu also includes classic Thai dishes such as pad woon sen.
Sakari offers its namesake dish in a half-dozen varieties, plus small plates including chicken karaage over rice and panko-breaded oyster katsu. Next door is another Be endeavor, Meccha Matcha, a dessert spot that serves green tea soft serve and unique ice cream floats such as the Yuzu Matcha Float, made with ice cream and a sweet-tart yuzu drink.
Japanese pastry shop Beard Papa's has also opened a location at Asia Times Square. The chain, which has more than 400 stores around the world, specializes in light and airy cream puffs, in flavors such as Oreo Cookie Crumble, s'mores, and honey butter.
Coming this spring will be two more spots: CM Chicken, a Korean fried-chicken stand, and Two Hands, which will specialize in the trendy Korean corn dogs.
Later this year, Loh says, Asia Times Square will be widening its footprint to include a new 11,000-square-foot building to be built from the ground up. It's all a part of the Loh family's three-pronged vision.
"Our goal is to make sure our businesses are profitable," he says. "Our mission is to preserve traditions and promote cultures. And our vision is to connect cultures and communities. It's so important right now, with the violence against us, to come together and support one another."

By Malcolm Mayhew, Fort Worth Magazine, April 8th, 2021